Reconstruction or correcting a receding chin
A small or even a receding chin can generally be remodeled or corrected with hyaluronic acid-based filler to give it a more harmonious shape. For a chin augmentation a deposit of highly stable hyaluronic acid-based filler (for example SubQ) is injected onto the bone of the lower jaw.
How long does a chin augmentation last?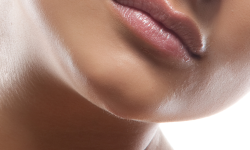 The durability of a chin augmentation generally lasts several months. Ordinarily it takes longer than one year before the deposited hyaluronic gel has completely been broken down. The first repeat chin treatment, however, can be performed in shorter time intervals if desired.
How much does a non-surgical chin augmentation cost?
The cost per treatment is approximately 395 - 670 Euro* for 1 - 2 milliliters of highly stable hyaluronic acid-based filler. Please see our price list for hyaluronic acid-based fillers.
Side effects of a chin augmentation
By changing the face's proportions, as with facial modeling or after a chin augmentation, the focus drifts away from the nose and onto the chin leaving the impression of a smaller nose. Please see non-surgical Rhinoplasty.
*Price is individual and according to GOÄ.