Lifting the cheek-bones simulates a younger face and reduces the nasolabial fold.
Cheek-bone enhancement
On some faces enhancing the upper and outer cheek-bone area produces a more aesthetically beautiful appearance, by creating a triangle form as its base. With a cheek-bone enhancement the sagging of the mid-face can be elegantly concealed and stabilized with hyaluronic acid-based filler.
Depending on its fullness, melting the nasolabial protrusion with facial lipolyse is recommended to further reduce the tired effects of a sagging mid-face.
Higher cheek-bones for a more distinctive face
Under some circumstances lifting the cheek-bone can optically counteract the sagging of the mid-face over time. An apparent enlargement of the cheek-bone with stable hyaluronic acid-based filler can make the face more distinct.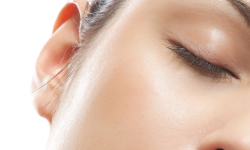 How is a cheek-bone enhancement done?
To perform the implantation relatively pain-free, a local anesthetic is used on the cheek-bone. The hyaluronic acid-based gel is then implanted close to the cheek-bone itself with a sharp needled. The filler injection should not exceed 1 ml per side per sitting. A later shifting of the filler is most unlikely when enlarging the cheek-bone. Compare facial modeling with a dull cannulae.