Creams only prevent wrinkles for a few hours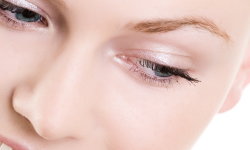 Preventative wrinkle treatment
If you want to prevent wrinkles, but have the predisposition for wrinkles, then a preventative botulinum toxin A treatment should commence early on. Similar to a normal wrinkle treatment, the muscles responsible for the angular mimic movements that cause wrinkles, are weakened with botulinum toxin.
The dosage necessary to prevent wrinkles is generally much lower than the dosage necessary to smoothen out deep facial grooves, thereby saving money for difficult and expensive treatments in the future.
What is wrinkle prevention?
Wrinkle prevention is the sum of coordinated measures that inhibits or reduces the formation of or the deepening of wrinkles. This includes protection from the sun, hydrating the skin, sleeping on your back and reducing mimic with botulinum toxin A. Under certain circumstances, early and successful preventative wrinkle treatment evenutally eliminates the need to treat wrinkles.
How soon to begin with botulinum toxin – preventative treatment?
The predisposition (skin type, weight fluctuation, etc.) of developing wrinkles varies greatly and is accelerated or decelerated through lifestyle habits (smoking, sun exposure, sleep, nutrition). It is generally sensible to begin with preventative botulinum toxin treatment in your late 20's, or even earlier if necessary. In addition to a possible muscle relaxing therapy with botulinum toxin, lifestyle and living conditions should also be modified. Our physicians can explain to you how best to prevent wrinkles at a consultation.
Creams to prevent wrinkles
There is nothing wrong with skin care products, but wrinkle treatment or prevention with a skin cream is generally not effectively possible.
Wrinkle prevention – Botulinum toxin or hyaluronic acid?
Both preparations can be used for wrinkle prevention. Depending on the constellation, you should first weaken your mimic and then simultaneously try to gradually reduce unnecessary mimic movements. Better hydration of the skin, and herewith wrinkle prevention through stabilization with hyaluronic acid, can rejuvenate the skin.
Interesting botulinum toxin treatments
Treating a gummy smile can prevent the greatly exaggerated development of the nasolabial fold.