The fat-away-injection effectively destroys and melts fat deposits.
What is the "fat-away-injection"?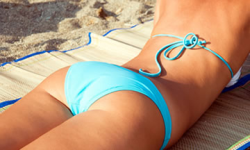 Colloquially the fat-away-injection refers to an injection treatment that infiltrates fat deposits with a combination of active ingredients that destroys the walls of fat cells, allowing the removal of fat stubborn deposits. Due to a misunderstanding of its fat dissolving qualities, injection lipolysis has actually been incorrectly named. It does not primarily refer to the lysis of stored fatty acids, but to the specific chemical destruction of fat cells.
Lipolysis is not recommended as a form of weight loss and is not advisable to use on those with a BMI (Body-Mass-Index) of 30 or over. A change of diet and exercise to burn access calories is recommended for those with a higher BMI.
How does the fat-away-injection work?
The main ingredient of the fat-away-injection is desoxycholic acid (biliary acids) which in very small amounts is necessary to destroy the cholesterol wall of adipocytes (fat cells). Another key element, phosphatidylocholine (unsaturated triglycerides from soy plants), which in addition to the cell protecting effect on the released unsaturated triglycerides (also a component of fat cells) emulsifies, enabling and easing flow to the liver. Other additives of the fat-away-injection are caffine, which is lipolytic, vitamin C (cell firming) and vitamin B complex, which stimulates metabolism.
Application areas for lipolysis?
Suitable facial areas are double chin, sagging cheeks, nasolabial protusions, lipoma and xanthelasma. On the body, saddlebags, love handles as well as for shape corrections of the back, hip, tummy, front and back of the armpits, upper arms, male breasts, thighs, knees, unevenness after a liposuction, mons veneris and mons pubis. But not too many fat deposits at once. The impact of the fat-away-injection is most effective when restricted to smaller areas.
How effective is treatment?
The reduction of fat after lipolysis is clearly measurable and noticeable on the majority of our patients. Due to the fact that the fat is not being mechanically removed, the effectiveness of lipolysis is of course inferior to liposuction. By slowly melting the fat layers over several lipolysis treatments, a smooth transition can be achieved. However, for pronounced fat deposits liposuction is the preferred method of choice.
The cost of a fat-away-injection
Fat-away-injection: Please seek consultation in advance of treatment regarding the costs at our offices in Berlin, Frankfurt, Cologne, Dortmund, Dusseldorf and Constance.
Course of treatment
The injection solution is administered with several fine cannulae into the fat tissue. After a few minutes a burning sensation will be noticeable. The fat deposit will swell after a few hours to approximately twice its original volume. This strong swelling impressively reaches its maximum after eight hours on average. Bruising will now be visible. The tissue will remain quite swollen for several days. By the tenth day the swelling will have receded. A reduction of fat will be noticeable after approximately three weeks after the swelling has gone down some more. Over the next few weeks the swelling will completely recede and the tissue will become soft again. An assessment of success is possible after eight weeks after treatment. Treatment may then be repeated if necessary. Waiting longer is not detrimental to further treatment.